1999 Grants Awarded


Environmental Grants | Medical and Scientific Project Grants
Political Reform and Global Theme Grants | Silicon Valley Community Grants
Discretionary Grants


In 1999, we awarded 59 grants totaling $2,979,899 to organizations in the following categories (number of grants and total grant money by category provided):

Environmental – 5 grants totaling $100,200

Medical and Scientific Projects - 6 grants totaling $600,000

Political Reform and Global Theme – 1 grant totaling $100,000

Silicon Valley Community – 29 grants totaling $1,745,999

Discretionary - 18 grants totaling $433,700

Californians Against Waste: $200
www.cawrecycles.org
Californians Against Waste is working to establish a recycling economy in the state of California through lobbying and policy initiatives at the local, state, and federal levels.
Why we supported: With this contribution, Steve and Michele Kirsch became members of Californians Against Waste and indicated their support of recycling efforts.

CalPIRG Charitable Trust: $10,000
www.pirg.org/calpirg
CalPIRG, the California Public Interest Research Group, is an environmental and consumer organization serving to preserve the environment, protect consumers, and promote democracy. This grant provides general operating support.
Why we supported: The Foundation supports CalPIRG's efforts, which are consistent with the Foundation's focus on environmental issues in the state of California.

Natural Resources Defense Council: $25,000
www.nrdc.org
The Natural Resources Defense Council (NRDC) uses law, science, and the support of members nationwide to protect the planet's wildlife and wild places and to ensure a safe and healthy environment for all living things. NRDC received funding to expand its successful Pollution Prevention Project, initially piloted at a Dow Chemical plant, to other sites within Dow and other companies.
Why we supported: NRDC's initial pollution reduction efforts resulted in more than $5 million in savings for Dow Chemical's Midland, Michigan plant, while reducing factory emissions by 43% and toxic waste by 37%. Expansion of this project to other sites and/or other companies is a solid step toward fostering collaboration between businesses and environmental groups, as well as cleaning up the air we breathe.

Resource Renewal Institute: $15,000
www.rri.org
Resource Renewal Institute supports innovative environmental management in the United States and worldwide. The organization's primary role is to promote the implementation of "green plans"– long-term, comprehensive strategies designed to achieve environmental and economic sustainability. This grant assisted the Resource Renewal Institute's co-hosting of the 1999 Mexican Ministry of Environment conference, the first such conference to bring together national, state, and local leaders and give them the skills to implement "green plans" at their respective levels of government.
Why we supported: Although outside of California, Mexico's proximity to the U.S. and the impact its pollution could have on California made this project appealing to the Foundation. In addition, it was the first such conference held in Mexico and showed the Mexican government's willingness to address its environmental issues and the Foundation wanted to support such an initiative.

University of Denver/Remote Sensing Institute: $50,000
The Remote Sensing Institute, located on the University of Denver campus, is committed to the development and application of improved methods of detection of air pollutants. Dr. Donald Stedman leads the Institute and has developed a remote sensing technology that provides an effective means of determining actual emissions by measuring emissions of vehicles in their unprepared on-road state rather than in a repair-shop-controlled testing environment. Our support enabled the Remote Sensing Institute to collect between 75,000 and 100,000 measurements in several key California urban areas, thus assisting the state with its Smog Check II program. This should help the California Air Resources Board and other regulators to assess the steps that will be necessary to improve California's air quality.
Why we supported: Only with the Foundation's support could the remote sensing data be collected. The state government agency responsible for collecting data for the smog check program, the Bureau of Automotive Repair, did not meet deadlines critical to the project, thus leaving the Inspection Maintenance and Review Committee in a bind. Given that it is the most accurate data available, the Foundation Board and staff determined that it was critical for the Foundation to make the data collection and analysis possible by funding the project directly.


---
Medical and Scientific Project Grants

Mars Society: $100,000
www.marssociety.org
The Mars Society was established to further the goal of the exploration and settlement of the Red Planet. The Mars Society is designing and constructing a base in the northern polar desert to simulate, as much as possible, the conditions under which humans would have to operate on Mars. The Foundation's support is underwriting a significant portion of the project.
Why we supported: This type of project helps to advance knowledge that might allow human beings to one day live and work on Mars. It is also a project that the Federal government does not consider important enough to fund relative to other NASA-type projects.

Sansum Medical Research Institute: $100,000
www.sansum.org
The Sansum Medical Research Institute is home to the Santa Barbara Diabetes Project, an international scientific collaboration designed to speed the cure for childhood-onset Type 1 diabetes. The Institute has attracted key scientific researchers including Dr. Illani Atwater, who is known for her work on insulin-secreting cells. The state-of-the-art technique that will be used is genetic engineering. In this case, researchers will be taking cells, such as skin cells, from a person with diabetes, engineering them to become beta cells that can make and secrete insulin and sense glucose, and putting them back in the person with the disease. The Institute asked to use the Foundation's support of its overall efforts for a challenge grant to other donors.
Why we supported: Type-1 Diabetes is one of the key research focus areas for the Foundation and this is research that is both promising as a cure and is collaborative in nature.

Stanford University: $200,000
www.stanford.edu.
$100,000 – Ben A. Barres
Dr. Barres is an Associate Professor in the Neurobiology Department. He is conducting studies on the role of glia in the formation and regeneration of functional synapses. This is a component of his overall efforts to understand how functional synapses form and regenerate between neurons. He is exploring how glial cells enhance synaptic transmission. His research has demonstrated that glia have a novel role in synapse function, which hitherto had been thought to be entirely regulated by neurons, and that there is a novel mechanism by which presynaptic function can be regulated. The findings raise the question of whether glial cells are similarly necessary in vivo to regulate synaptic function. The Foundation's funding is helping Dr. Barres to pursue this issue and to determine the molecular identity of the signal that glial cells release that induces presynaptic maturation.
Why we supported: This fundamental science research will lead to a better understanding of neurological disorders, which is a key area of interest to the Foundation.

$100,000 – Mark S. Blumenkranz
Dr. Blumenkranz, Professor and Chairman of the Department of Ophthalmology and a medical authority on Age-Related Macular Degeneration (ARMD), is conducting research on treating the disease. ARMD is the leading cause of blindness for persons over the age of 65. His current efforts focus on the use of a new type of laser treatment to inhibit progression of the disease to the "wet stage" that results in serious vision loss.
Why we supported: The research being conducted by Dr. Blumenkranz fits with the stated research interests of the Foundation.

Steadman-Hawkins Sports Medicine Foundation: $100,000
www.shsmf.org
The Steadman-Hawkins Sports Medicine Foundation is dedicated to keeping people of all ages physically active through orthopaedic research and education in the areas of arthritis, healing, rehabilitation and injury prevention. This grant will enable the Sports Medicine Foundation to design a preeminent, informational web site on orthopaedic and sports medicine on the knee and shoulder.
Why we supported: Given Steve Kirsch's knowledge of the power of the Internet, his commitment to disseminating health-related information to consumers, and his own frustration in finding information about knee injuries and rehabilitation on the web, he wanted the Steadman-Hawkins Sports Medicine Foundation to build on its expertise and provide such information on the web, both to clinicians and the public.

University of Arizona/Spacewatch: $100,000
http://spacewatch.lpl.arizona.edu/
Spacewatch, located on the University of Arizona campus at the Lunar and Planetary Laboratory, explores the various populations of small objects in the solar system and studies the statistics of asteroids and comets. This grant helps support Spacewatch's project of discovering near earth objects (NEOs).
Why we supported: The federal government is under-funding this research, which will identify any asteroid that is large enough to destroy the earth. As Steve Kirsch explains, "A grant of $20 million saves a mathematically expected $30 billion each year. Not just the first year but $30 billion each and every year for the next 100,000 years. I don't know anything with that kind of return on investment."


---
Political Reform and Global Theme Grants
Ploughshares Fund: $100,000
www.ploughshares.org
Ploughshares Fund focuses its activities on nuclear disarmament and non-proliferation. Its Board of Directors funds the annual operating budget so all charitable donations are granted to various nonprofit organizations that pursue its primary goals: influencing nations' nuclear weapons policies, building awareness of the environmental costs of nuclear weapons production, and promoting public understanding and participation towards the goal of nuclear weapon elimination.
Why we supported: The Foundation praises the efforts of Ploughshares in working toward a weapons-free world and believes nuclear disarmament is critical to the world's survival.


---
Silicon Valley Community Grants

There are two types of Silicon Valley grants: competitive grants based on proposals submitted to the Foundation and other grants made at the discretion of Steve and Michele Kirsch in support of community organizations to which they are personally committed. All grants are competitive unless listed as "discretionary."

All Stars Helping Kids: $5,000
www.allstarshelpingkids.com
All Stars Helping Kids, founded by former NFL 49ers' star Ronnie Lott, has focused on aiding disadvantaged youth in the San Francisco Bay Area for the past ten years. The organization helps youth face adversity including health problems, disabilities, family struggles, crime and economic hardship.
Why we supported: Champions of children's causes, Steve and Michele Kirsch were inspired by the efforts of All Stars Helping Kids. This is a discretionary grant.

American Musical Theater of San Jose: $100,000
www.amtsj.org
The American Musical Theater of San Jose is a premiere performing arts center. It presents several musicals a year, generally affordably priced, as well as children's art programs.
Why we supported: Avid supporters of Silicon Valley's arts community, Steve and Michele Kirsch designated this grant for sponsorship of the 1999-2000 season. This is a discretionary grant.

Children's Discovery Museum: $5,000
www.cdm.org
Located in San Jose, the Children's Discovery Museum is a learning and discovery center for children, families and schools, offering interactive exhibits and programs that span the arts, science, technology and the humanities.
Why we supported: Steve and Michele Kirsch are committed to the education and development of children. This is a discretionary grant.

Children's Health Council: $5,000
www.chconline.org
The Children's Health Council has served the developmental needs of children and families in the Bay Area community for nearly 50 years, providing mental health services, special education and developmental services for children and adolescents.
Why we supported: This grant helped sponsor the Children's Health Council's Summer Symphony 1999, combining the Kirsch's interests in the well-being of children and the arts. This is a discretionary grant.

Community School of Music and Arts: $5,040
www.arts4all.org
The largest arts education organization in Santa Clara County, the Community School of Music & Arts serves students of all ages through its diverse artistic programs including private lessons and classes, arts-in-the-schools programs, vacation and summer camps, concerts and other community outreach events.
Why we supported: Steve and Michele Kirsch wanted to introduce the arts-in-the-schools program in the Los Altos School District. This is a discretionary grant.

Community Foundation Silicon Valley: $276,700
Community Foundation Silicon Valley (CFSV), one of the largest nonprofit community foundations in the U.S., makes grants to the Silicon Valley community, educates the public about nonprofits and Silicon Valley's needs, and enables citizens to solve local problems. The Kirsch Foundation made four grants to CFSV in 1999:

$200,000
This grant underwrites the construction of the Kirsch Conference Center, a state-of-the-art conference and seminar room co-located with CFSV's San Jose office.

$48,300
Each year the Kirsch Foundation provides funds to support CFSV's grantmaking activities in its four strategic areas (cultural participation, education and lifelong learning, neighborhoods and civic engagement, and self-reliant individuals and families.)

$25,000
Steve Kirsch was a Founding Partner of SV2, a fund sponsored by CFSV that is composed of young, business professionals who are interested in impacting the community through donating time and financial resources. This is a discretionary grant.

$3,400
This grant underwrites the cost of a quarterly event for SV2, which encourages networking by its members and growth of the overall membership. This is a discretionary grant.

Why we supported: The Steven and Michele Kirsch Foundation is a supporting organization of the Community Foundation Silicon Valley. These contributions support various programs and capital projects proposed by CFSV.

Computer Museum: $8,000
www.mos.org
The Computer Museum, now a part of the Museum of Science in Boston, dedicates itself to furthering an interest in and understanding of science and technology and their importance for individuals and for society. The Museum of Science partners with the Computer Museum History Center (see next listing) in the safeguarding of computing artifacts.
Why we supported: The Foundation helped sponsor the 1999 Computer Bowl, hosted by the Computer Museum. This is a discretionary grant.

Computer History Museum: $89,000
www.computerhistory.org
The Computer Museum History Center dedicates itself to the preservation of computing history. It is home to one of the largest collections of computing artifacts in the world.
Why we supported: As a Board member, Steve Kirsch made two grants totaling $89,000, one for the July 1998 – June 1999 fiscal year and one for the July 1999 – June 2000 fiscal year. Both are discretionary grants.

Foothill-DeAnza Community Colleges Foundation: $25,000
www.fhda.edu
The Foothill-De Anza Community Colleges Foundation encompasses Foothill College and DeAnza College. Foothill College is developing the Center for Innovation in Education (CIE) so educators and students have access to an interactive, multimedia computer laboratory to explore developments in educational technology. CIE will also provide training for teachers in kindergarten through grade 14 in the application of technology to curriculum. Foothill College has undertaken a capital campaign to renovate and redesign a current building to house the CIE. The Foundation's grant is designated for the capital campaign.
Why we supported: The Foundation supports efforts by the community to integrate technology into the classroom and CIE will be working with local Silicon Valley teachers as well as its own faculty and students.


KQED: $1,000
www.kqed.org
KQED, the public television station for Northern California, produces and acquires programs that entertain and inform and broadcasts PBS shows and other programs from distributors around the world. To show their support for public television, Steve and Michele Kirsch became members of the KQED Signal Society through a Foundation grant.
Why we supported: This is a discretionary grant.

Los Altos Cultural Association (Millennium Celebration): $10,000
The Los Altos Cultural Association sponsored a Millennium Celebration as a benefit for the construction of an Education Center at the Los Altos History House. The event was held in the Kirsch's home community.
Why we supported: This grant supports an opportunity to help an educational project located in the Kirsch's home community that would insure an understanding of the community's roots and development.

Los Altos Educational Foundation: $20,000
www.springer.losaltos.k12.ca.us/thank_you/laef
The Los Altos Educational Foundation provides funding for educational programs and materials that enhance the academic curriculum of the Los Altos School District.
Why we supported: Members of the Los Altos community, Steve and Michele Kirsch support furthering education in their neighborhood. This is a discretionary grant.

Meals of Marin/A Bunch of Good Guys: $5,000
http://www.marin.org/comres/organization_disp.cfm?TOrgID=320
A Bunch of Good Guys, founded as a purely volunteer effort by current San Mateo County Superior Court Judge Joseph E. Bergeron, is committed to feeding the poor of California's San Mateo County.
Why we supported: Michele Kirsch applauds A Bunch of Good Guys and wanted to insure that there would be sufficient food available during the 1999 holiday season. This is a discretionary grant.

Mountain View-Los Altos Union High School District: $2,500
www.mvla.k12.ca.us
The Mountain View-Los Altos Union High School District supports the high schools in the cities of Mountain View and Los Altos, California.
Why we supported: This grant helps sponsor the "Parent Observation Program" in the school district. As members of the Los Altos community, Steve and Michele Kirsch support the school district's effort to get parents involved in the education of their children.

Odd Fellow-Rebekah Children's Services: $20,000
www.rcs-ioof.org
Rebekah Children's Services, located in Gilroy, California, is a safe haven for children who are unable to remain with their families because of serious abuse. This funding helped to underwrite the capital campaign for the reconstruction of an outdated and very small recreation center for the children who are being sheltered by the organization. For these children, planned recreation activities are an integral component of helping them to recover from abusive situations.
Why we supported: Rebekah Children's Services is a sanctuary for children who are the most difficult to place in foster care due to severe neglect. The proposed capital project had carefully estimated costs and was clearly needed. Most important, no other organization in Silicon Valley is doing the work of Rebekah Children's Services in helping the most-neglected children of the community.

San Jose Children's Musical Theater: $50,000
www.sjcmt.com
San Jose Children's Musical Theater provides accessible musical theater training for youth, with performances for families and the entire community. This funding, which is composed of two grants of $25,000 each, supports the San Jose Children's Musical Theater's on-line program TADA! "Theater as Digital Activity".
Why we supported: These grants encourage the use of the Internet as a vehicle to engage children in the arts. These are discretionary grants.

Santa Clara University/Markkula Center for Applied Ethics: $5,000
www.scu.edu/ethics
The Markkula Center for Applied Ethics, located on the Santa Clara University campus, is a community of faculty, students, staff and community members with the common goal of providing people, both from the on- and off-campus communities, with strategies to heighten ethical awareness and improve ethical decision making.
Why we supported: Believing people should be equipped to make decisions that better themselves and those around them, Steve and Michele Kirsch made this grant to the Markkula Center. This is a discretionary grant.

Santa Clara Valley Repeater Society: $5,000
www.scvrs.org
The Santa Clara Valley Repeater Society maintains and operates three amateur radio repeater systems in the San Francisco Bay Area. This grant supports the Society's activities in aiding the community's Emergency Response System.
Why we supported: This is a discretionary grant.


Stanford University/Cantor Center for Visual Arts: $4,975
www.stanford.edu/dept/ccva
Located on the Stanford University campus, the Cantor Center for Visual Arts is home to 27 art galleries, special exhibitions and educational events. It is an extensive resource for the teaching staff at Stanford as well as a cultural center for the San Francisco Bay Area.
Why we supported: Steve and Michele Kirsch joined the Cantor's Center "New Founder's Circle" in continuing their support of the arts community. This is a discretionary grant.

The Tech Museum of Innovation: $58,759
www.thetech.org
Located in San Jose, The Tech Museum of Innovation is an educational resource established to engage people of all ages and backgrounds in exploring and experiencing technologies affecting their lives, and to inspire young people to become innovators in the technologies of the future. Steve and Michele Kirsch made five separate grants to The Tech Museum in 1999:

$10,000 to Gizmo WYSIWYG programs– Funds various educational programs at The Tech, including student internship programs and technology camps

$23,100 for the "Panamas and Parasols" event – Underwrites and hosts this Leadership Circle event

$20,000 – Sponsorship of the FANTASIA/2000 occasion for Leadership Circle donors

$5,000 – General support

$659 – Sponsors the Leadership Circle Cultivation luncheon

Why we supported: Steve and Michele Kirsch are chairs of the museum's Leadership Circle of donors and have supported special events on behalf of The Tech. These are discretionary grants.

United Way Silicon Valley: $1,000,000
www.uwsv.org
United Way Silicon Valley, formerly named United Way of Santa Clara County, is a locally governed, independent nonprofit organization committed to raising funds for its 100-plus member agencies. These health and human care agencies meet high administrative and financial standards for accountability and service delivery to Silicon Valley's needy community members. In May of 1999, local agencies found themselves without funding (for May/June, 1999, and all of the July 1999 – June 2000 fiscal year) due to poor financial management by the United Way. The funding shortfall was in excess of $15 million and would have resulted in serious service cutbacks by the member agencies that had been counting on United Way funds.
Why we supported: Steve and Michele Kirsch were the first to step forward to provide emergency funding so that local organizations – and the individuals they assisted – did not suffer due to United Way's poor management and financial planning. As leaders in the Silicon Valley community, they wanted to set an example for other high-tech leaders and to demonstrate that the local high-tech business world was committed to the community. As a result of the Kirsch's leadership and efforts to secure other high-tech contributions, funding was restored to the agencies. This is a discretionary grant.

YMCA of the Mid-Peninsula: $50,000
www.ymcamidpen.org
The YMCA of the Mid-Peninsula is an association of people unified by the common purpose of strengthening and enriching the spiritual, mental and physical well-being of all people and to improving the human conditions within the changing patterns of family and community life. This YMCA operates branches and facilities in Redwood City, East Palo Alto, Palo Alto and Mountain View. Steve and Michele Kirsch's grant underwrote an on-site counseling room, part of a $3.5 million capital campaign for the expansion and remodeling of the Mountain View branch.
Why we supported: The Kirsch family had participated in YMCA activities and wanted to support the local YMCA's efforts to upgrade its facilities. This is a discretionary grant.


---
The Aspen Institute
www.aspeninstitute.org
The Aspen Institute is an international nonprofit educational foundation that serves leaders worldwide. The mission of The Aspen Institute is to enhance the quality of leadership through informed dialogue about the timeless ideas and values of the world's great cultures and traditions as they relate to the foremost challenges facing societies, organizations, and individuals. Men and women in leadership roles, and from diverse backgrounds, benefit from the Aspen Institute's forum for exchanging ideas and gaining knowledge. The Institute wanted funding for seminar development and the Crown Fellows from 1997 conducted a campaign to underwrite this activity.
Why we supported: As an Aspen Institute Crown Fellow 1997, Steve Kirsch joined his classmates in supporting the revision of the Executive Seminar, a program offered to business leaders through the Aspen Institute.

FIRST
www.usfirst.org
FIRST, an acronym for "For Inspiration and Recognition of Science and Technology", is dedicated to generating an interest in science and engineering in today's youth. The Foundation made grants to FIRST on two separate occasions. One contribution assisted in the rollout of the FIRST LEGO League for the year 2000, a program expecting 25,000 participating young people, through a challenge grant. The second grant represents Steve Kirsch's initial contribution as a celebrity captain for a Lego's robotic team competition held at AGENDA 2000 to benefit FIRST.
Why we supported: Steve Kirsch was a team captain at a robotics competition and wanted to demonstrate his support for FIRST.

Junior League of Palo Alto/Midpeninsula
www.thejuniorleague.org
The Junior League is an organization of women committed to promoting volunteerism, developing the potential of women and improving communities through the effective action and leadership of trained volunteers. During the year, there were three gifts made to the Junior League. One grant was made to help sponsor the chapter's Holiday Boutique. The second contribution helped to underwrite the "Hats Off" event. And the third represented Michele Kirsch's annual contribution to the Junior League endowment.
Why we supported: Michele Kirsch is an active member of the Palo Alto chapter of the Junior League.

Medical Education for South African Blacks
www.mesab.org
Medical Education for South African Blacks (MESAB) is a collaborative American and South African effort to improve the health of South Africa's black majority by training black health professionals. MESAB is the largest source of private funds for students of color preparing for health care careers in South Africa.
Why we supported: Steve and Michele Kirsch applaud the efforts of MESAB in training health care providers in South Africa who work towards bettering the health care options for South African residents.

Mills College
www.mills.edu
Located in Oakland, California, Mills College is a private liberal arts school with a long-standing reputation for supporting the development and education of women. The undergraduate student body is composed of women of all ages and backgrounds while the graduate student body is co-ed. The two grants support a scholarship in Michele Kirsch's maiden name at the college.
Why we supported: Michele Kirsch is a graduate of Mills College.

MIT
www.mit.edu
Massachusetts Institute of Technology is one of the world's most recognized universities and a leader in scientific research. This grant underwrote an event for West Coast alumni.
Why we supported: Steve Kirsch is a graduate of MIT and maintains a strong relationship with his alma mater.

MIT Club of Northern California
www.mitcnc.org
The MIT Club of Northern California is the alumni organization for MIT graduates who have made their homes in Northern California. The Club requested partial sponsorship of its Spotlight MIT '99 event.
Why we supported: A graduate of MIT, Steve Kirsch supports the alumni organization.

ORBIS International
www.orbis.org
ORBIS International works in developing countries to prevent blindness through hands-on training of healthcare providers, public health education and improved access to eye care.
Why we supported: This grant will assist ORBIS in continuing its mission to fight loss of sight in remote areas of the world.

Project Open Hand
www.openhand.org
Project Open Hand provides nutrition services to men, women and children living with HIV and AIDS in San Francisco and Alameda counties in California. Additionally, it provides meals to seniors in San Francisco.
Why we supported: This grant helps to sponsor a benefit for Project Open Hand upon the recommendation of an employee of Infoseek, a company that Steve Kirsch founded and led until its acquisition by Disney in late 1999.

Rotary Foundation of Rotary International
www.rotary.org
Rotary International is an organization of business and professional leaders worldwide who provide humanitarian service, encourage high ethical standards in all vocations and help build goodwill and peace in the world.
Why we supported: Steve and Michele Kirsch made this donation to the Rotary Foundation in the memory of a friend's son, Michael Myers, who died in a diving accident.


Saddle Pals Therapeutic Center:
Located in Roseville, California, Saddle Pals Therapeutic Center provides horsemanship, recreation and educational opportunities to physically, mentally or otherwise challenged individuals.
Why we supported: This funding enables Saddle Pals to hire an Assistant Director and to gain matching funds for the position through its local United Way.

ShareSpace Foundation
www.sharespace.org
The ShareSpace Foundation is committed to research and education that will enable public access to space travel, spurring lower space transportation costs that will lead to advancements in science, astronomy and human exploration.
Why we supported: Steve Kirsch is an admirer of the founder of ShareSpace, national icon and space explorer Buzz Aldrin.

Solar Motions
www.solarmotions.com
Solar Motions' goal is to set a new standard for leadership in the relevant solar, electronic and automotive systems technologies. It has designed and developed a solar-powered vehicle. As a primary project, it formed a solar car consortium focused on participating in the Australian World Solar Challenge in November 1999. This was the project that received substantial support from the Foundation.
Why we supported: The Foundation sponsored Solar Motions' participation in the World Solar Challenge as part of its support for the development of clean energy sources. Due to a crash in the first turn, the team tied for 10th out of 42 entrants, although its speed would have enabled it to finish first.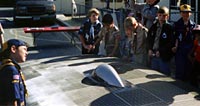 A Cub Scout Pack checks out a Solar Motions vehicle and learns about alternative forms of transportation and energy.

United Way of the Bay Area
www.uwba.org
Through a vast network of volunteers and community service agencies, United Ways throughout America, like the United Way of the Bay Area, help meet the health and human-care needs of people every day across the country as well as in their local communities. This United Way chapter covers all San Francisco Bay Area counties with the exception of Santa Clara County.
Why we supported: This grant is the result of a local fundraising event, Passport '99, for the Bay Area chapter.

Unihi Foundation/University High School
www.universityhs.com
University High School educates young adults in the Los Angeles area and the Unihi Foundation has been established to raise funds for, and accept charitable donations on behalf of, the school.
Why we supported: Steve Kirsch is a graduate of University High School.



home | who we are | how to apply for grants | what we've done
what we care about | why give